The Feedback Game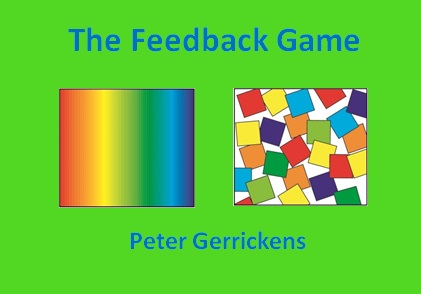 Who am I? (Dutch version: Kwaliteitenspel)

Research shows that most people working in organizations today suffer from a lack of feedback; and they, in turn, fail to give feedback to the people around them. An increase in the amount and the quality of feedback that people receive leads to an improvement in their motivation, the quality of their work, and their ability and willingness to develop.
More information
Explanation
The Feedback Game consists of 140 four-color playing cards, divided into two groups:
1. Strenghts
These cards contain positive human qualities such as: helpful, honest, enterprising, creative or responsable.
2. Weaknesses
These cards contain, what might be called 'distorted' qualities or weakness such as: arrogant. inhibited, inflexible, hesitant.
We also developed 'The Feedback Manual' for professional use (trainers, coaches, managers, teachers and consultants). This manual contains 20 different methods of play and additional theory, questions and exercises. You can find more information in the tab 'Manual' on this page.
Specifications
Boxed game with 140 coloured cards and instructions for three methods of play
Author: Peter Gerrickens
Price: € 39,00 (+ 21%VAT + Post & Packing)
Other Languages
Order in the webshop - on the Dutch part of this site - only for order and delivery in the Netherlands:
Visit website for more information or ordering: