The Quotations Game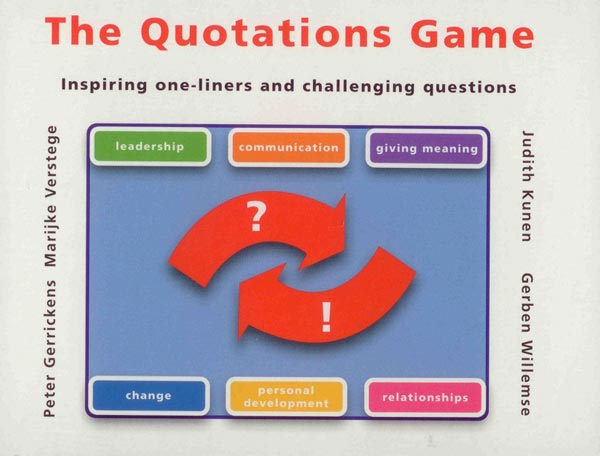 Inspiring one-liners and challenging questions
The purpose of this game is to open up discussion between people concerning their personal views on subjects such as 'communication', 'change', and 'leadership'. With the help of thought-provoking questions, this game encourages you to link these subjects to your own personal experiences.
More information
The Quotations Game consists of 140 full-colour cards. On the face side of the cards is a quotation and on the back is a question which is linked to it. In most cases, you will use either the sides with the quotations or the sides with questions.
The quotations are divided into six groups:
Leadership
Communication
Giving meaning
Change
Personal development
Relationships
In each group there are 20-25 cards.
Possible applications
Getting acquainted in groups and teams
Opening up discussion about specific subjects
Giving each other feedback
Specifications
Boxed game with 140 full-colour cards and instructions for five methods of play
Authors: Peter Gerrickens, Marijke Verstege, Judith Kunen and Gerben Willemse
Price: € 39,00 (excluding 21% VAT and shipping costs)
Other Languages