The Feelings Game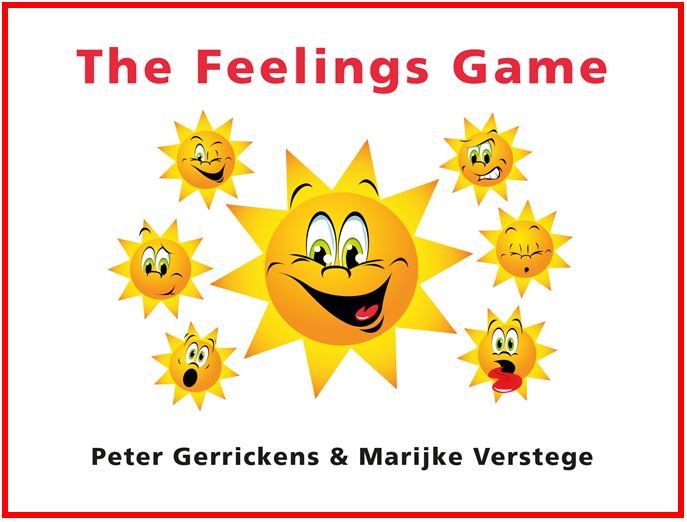 What do I feel?
This game will enable people to discuss the way they experience situations, people or organisa- tions. Feelings play een important role in our lives and have a massive influence on our behaviour. That is why it makes sense to understand them. Many people however, have difficulty putting their feelings into words.

This game helps people not only become more aware of their own feelings, but will also enable them to apappreciate other people better.
More information
Explanation
The Feelings Game consists of 140 four-color playing cards, divided into four groups:
Pleasant feelings
For example: happy satisfied, and grateful
Unpleasant feelings
For example: alone, angry or hurt
Areas of life
These are aspects of life that may be of importance to you and that are emotionally charged, for example: friends, (un)paid work or health.
Pictures
With these you can talk to each other about feelings based on photos.
Within the two groups (pleasant and unpleasant feelings) the cards are divided into two parts:
Cards 1-24, in each group, represent those feelings, which are more commonly recognised and more likely to be a part of daily life (part 1).
The remainder of the cards (part 2) deals with more complex feelings.
The different groups may be applied seperately or in combination.
Possibilities for application:
Coaching
Teamwork
Getting acquainted
Evaluation in training courses
Career planning
Job appraisal and coaching
Specifications
Boxed game with 140 coloured cards and instructions for six methods of play
Authors: Peter Gerrickens and Marijke Verstege
Price: € 39,00 (+ 21%VAT + Post & Packing)
No separate Manual available.
Other Languages
Order in the webshop - on the Dutch part of this site - only for order and delivery in the Netherlands:
Visit website for more information: